Stage 3 Performance Package (2005-2013 Chevrolet Corvette C6)
Stage 3 Performance Package (2005-2013 Chevrolet Corvette C6)
Description:
Package Includes:
1 7/8" American Racing Long Tube Headers with X-Pipe
Halltech Black Killer Bee™ MF108 Cold Air Induction
RPM Custom Cam Package - Includes RPM Custom Cam, Brian Tooley Racing Dual Valve Spring Kit, Brian Tooley Racing Hardened Pushrods, Melling High Volume Oil Pump, GM LS7 Timing Chain, GM Water Pump Gaskets, GM Crank Pulley Bolt and Seal, Mobil 1 Oil Change, and NGK TR-55 Spark Plugs
Race Proven Motorsports Custom Spec'd Ported and Polished CNC'd Cylinder Head Package – Includes GM MLS LS Cylinder Head Gaskets, GM LS7 Lifters, and GM Head Bolts

Custom Dyno Tune using HP Tuners
***Call us for pricing WITHOUT installation!*** 
 Dyno graph from a 2012 C6 Grand sport auto (before & after)
Collections
Best Sellers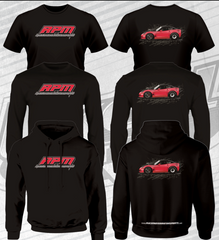 Red "Race Proven Motorsports" emblem on the front. Red RPM C6Z06 Co...
All Bestsellers