BMR 16-17 6th Gen Camaro Non-Adj. Upper Control Arms (Polyurethane) -
BMR 16-17 6th Gen Camaro Non-Adj. Upper Control Arms (Polyurethane) - Red
Description:
Launching harder, reducing wheel hop, and adding cornering consistency to your 2016-newer Chevrolet Camaro is easy with upper control arm arms from BMR Suspension. Stock stamped steel trailing arms with soft rubber bushings deflect under load and absorb power instead of transferring it to the tires. BMR's polyurethane, non-adjustable control arms for Camaros (UTCA061) are manufactured from heavy-duty 1x1.5-inch boxed steel tubing. The open end is formed from CNC laser cut, CNC formed 3/16-inch steel plate. This design gives you a strong control arm that greatly improves performance. Greasable, 95-durometer bushings add a solid, more responsive feel over the stock rubber bushings. BMR's bushings are internally fluted, which allows grease to evenly coat the inner sleeve. These flutes also direct grease to the outer edge of the bushing, keeping the thrust surface lubricated. This efficient lubrication ensures quiet, reliable operation over the life of the bushings. BMR Suspension designed the UTCA061 to work well in street performance, drag race, and road race applications. The stock control arms flex under cornering loads giving you inconsistent handling characteristics. Combine this with soft bushings that have massive amounts of deflection and you're left with poor performance. The UTCA061's heavy-duty construction eliminates control arm flex, giving you much improved repeatability on the street, starting line, or in the corners. BMR's polyurethane bushings are designed to be compliant enough to give you a comfortable ride and absorb NVH, while remaining firm enough to stand up to high loads of any performance environment. The bushings easily handle the high compression loads of hard launches and hard acceleration, yet offer plenty of articulation for great handling. These are the perfect upgrade for the enthusiast looking to improve performance at an affordable price, while maintaining acceptable NVH levels and ride quality.
This Part Fits:
| Year | Make | Model | Submodel |
| --- | --- | --- | --- |
| 2020 | Chevrolet | Camaro | LS |
| 2016-2017,2020 | Chevrolet | Camaro | LT |
| 2016-2020 | Chevrolet | Camaro | SS |
| 2017-2020 | Chevrolet | Camaro | ZL1 |
Collections
Best Sellers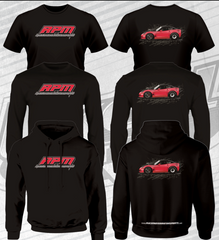 Red "Race Proven Motorsports" emblem on the front. Red RPM C6Z06 Co...
All Bestsellers