Borla 2010 Camaro SS 6.2L 8cyl Aggressive ATAK Exhaust (rear section o
Borla 2010 Camaro SS 6.2L 8cyl Aggressive ATAK Exhaust (rear section only)
Description:
For vehicles WITHOUT the factory ?Ground Effects? package. System features polished T-304 stainless steel tips. BORLA? has developed a revolutionary exhaust technology that enables our engineers to deliver unprecedented vehicle-specific control over the acoustical note of an exhaust throughout the RPM range, while retaining 100% of the power-adding capabilities of BORLA??s patented multicore design. Called ATAK? (Acoustically-Tuned Applied Kinetics), this technology produces the highest available dB (decibel) levels in the BORLA? street-legal lineup, and is designed for high-performance purists who prefer exhaust notes over their stereos. The focus of ATAK? is to pump the volume while retaining clarity of sound, avoiding distortion typically found in louder exhausts. With ATAK?, the sound output is tuned like a graphic equalizer to shape and focus sound waves for optimum high-volume output. The development of each ATAK? system begins with extensive study of each vehicle?s acoustical properties. The technology is based on custom-tuned attributes of the internal muffler cores, which are calibrated on a vehicle-by-vehicle basis to deliver the most desirable sound. A complete technology overview can be viewed at www.youtube.com/borla. Several BORLA? ATAK? systems are currently available. For the 2010 -2013 6.2L V8 Camaro there is a Cat-Back? system (PN 140356) and an Axle-Back system (PN 11788) for models without the ?Ground Effects? option, and a Cat-Back? system (PN 140378) and an Axle-Back system (PN 11794) designed to complement the Ground Effects kit. The Axle-Back systems retain the stock front muffler so the full effect of the ATAK? Sound is not realized, but they are still louder than the S-Type. Like all BORLA? exhaust products, each system is handmade in the USA by master craftspeople and features premium, high-quality T-304 austenitic stainless steel construction, ultra-smooth mandrel bent piping, mirror-polished tips, and a Million-Mile Warranty.
This Part Fits:
| Year | Make | Model | Submodel |
| --- | --- | --- | --- |
| 2010-2013 | Chevrolet | Camaro | SS |
| 2012-2013 | Chevrolet | Camaro | ZL1 |
Collections
Best Sellers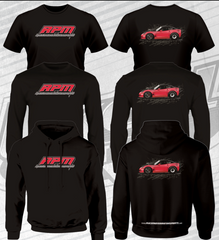 Red "Race Proven Motorsports" emblem on the front. Red RPM C6Z06 Co...
All Bestsellers